OXO Gourmet Pour Over
OXO's countertop pair brings the pour over experience to prosumers at home. The conical burr grinder, with an hourglass silouehtte, creates a uniform grind with a push of a button. The ground's full flavor then is unlocked by the rigorously-tuned gooseneck pour over kettle.
Credits: Smart Design, 2015 / Role: concept and development lead
A. Conical burr grinder
Pared down to high quality essentials
OXO's conical burr grinder creates uniform grinds through a timer-based interface. Its contrasting graphics and hourglass form gives a timeless countertop presence. Simplified dial interface grinds beans from upper hopper into grounds in lower cup. The inherent beauty of this design is in its thoughtful simplification and priority on function. Our approach was to source premium-quality internals, while reducing decorative cosmetic parts. Bold graphics were designed in place of unnecessary lights and electronics. A delightful detail is in its grounds-cup design, which allows for a one-step coffee transfer, and minimizes mess from static grounds.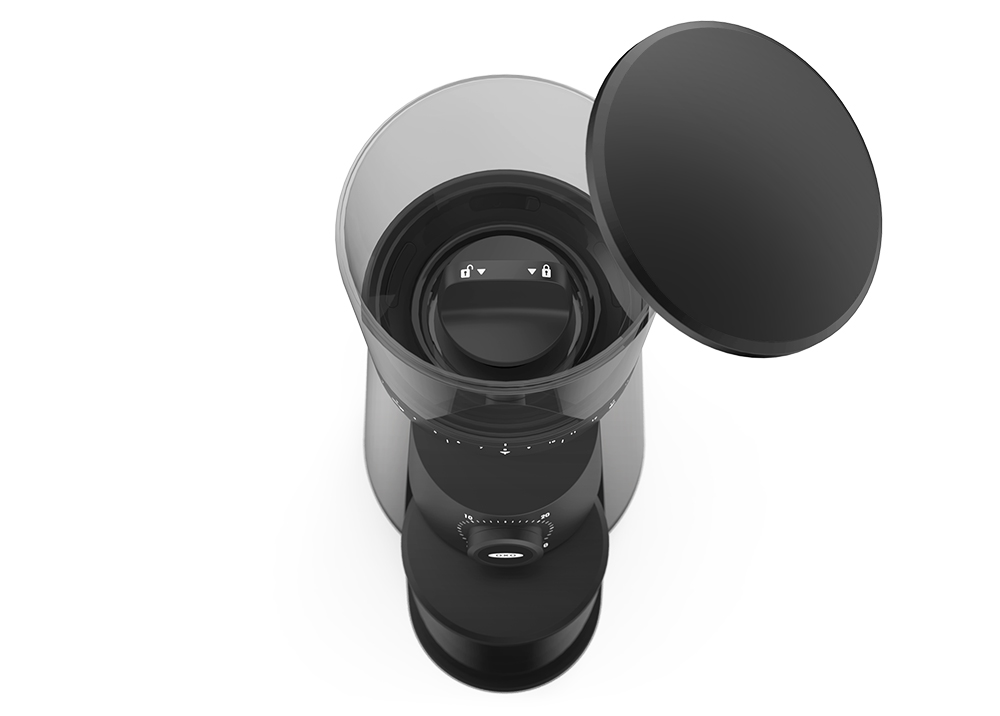 B. Gooseneck pour over kettle
Analog kettle with built-in thermometer, and eletronic option for convenience
Crafting the ideal pour-over experience

The art of pour over coffee is in unlocking the ground's flavor potential with a steady stream of water. People described it as a zen-like moment in their morning routine. Expert interviews at the most acclaimed coffee shops in NYC informed us to perfect the spout geometry and handling balance. Our design study was done through rigorous physical prototyping – vacuum-forming water-tight bodies, grinding and bending spouts, and adjusting handle positions. A delightful feature is its oversized body opening, which allows for easier water filling and cleaning. The result is a kettle that measurably surpasses competitors in its perfect pour and balanced handling.